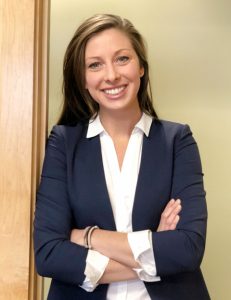 Attorney At Law
Meredith J. Smith, Attorney at Law, joined Timmons Law PC in January 2019. She primarily practices family law, civil litigation, business law, and small estate planning. Meredith's collaborative nature and outgoing personality make her a great fit for Timmons Law, a firm that's focused on personal relationships and teamwork.
Meredith is a graduate of the University of Oregon School of Law, where she was responsible for organizing the annual Oregon Sports and Entertainment Conference, a two-day event for sports and entertainment professionals. With a Bachelor's Degree in Exercise Science, Meredith is passionate about counseling athletes about licensing, trademarks, endorsements, labor negotiations, contracts and other legal matters. Working in the Gorge area has allowed Meredith to expand her practice and apply these skills to other areas of law as well, like family law and business law.
As a law student, Meredith worked for Action Sports Law Group in San Diego, California, where she provided legal immigration services for foreign action sports athletes and coaches. Meredith also worked for the Jefferson County Counsel's office, assisting with ordinance drafting and litigation.
Meredith was raised in Astoria, Oregon, and has spent most of her life living near or traveling to the ocean. She loves to surf, rock climb and scuba dive. She is looking forward to taking up kiteboarding or windsurfing now that she lives in the Gorge.