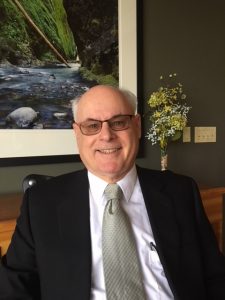 Attorney at Law
Jeff Wallace is a Columbia River Gorge trial attorney with a dynamic background in criminal defense, municipal law, family law and civil litigation. Jeff joined Timmons Law in 2018 after a long career in both the public and private sectors.
During his 40-year legal career, Jeff served as a circuit court judge for Oregon's Sixth Judicial District (Umatilla and Morrow Counties), as the District Attorney of Morrow County, as County Counsel for two eastern Oregon counties, as a private practice attorney, and as a city administrator. He also served for more than 30 years in the Oregon Army National Guard and U.S. Army Reserve as a judge advocate, including a yearlong deployment to Iraq in 2008 – 2009, where he was a staff judge advocate for a combat sustainment brigade.
"To best serve a rural community, attorneys with a general law practice have to have a broad area of expertise, rather than specialize," he says. "That's what drew me to Timmons Law, along with the collaborative culture at the firm."
Jeff grew up on a family farm in Northeastern Oregon, near Milton-Freewater, and graduated from the University of Oregon with a degree in Journalism. He earned his law degree from Willamette University College of Law. Having served as a judge for 18 years, he feels most at home in a courtroom. He and his wife Ronda, a retired teacher, enjoy living in The Dalles. When he's not working, Jeff enjoys running, playing piano, reading history, and catching up with his five children and three grandchildren.